What I Learned from My Trek to Rara Lake – Part 3
What I Learned from My Trek to Rara Lake – Part 3
Day 2
It was a cold morning. The sun was rising up over the horizon and the early morning fog was slowly clearing up. All of us were up by 6 AM and were getting ready for the day's journey. It was our second morning of the trip and compared to previous morning, we felt a lot refreshed.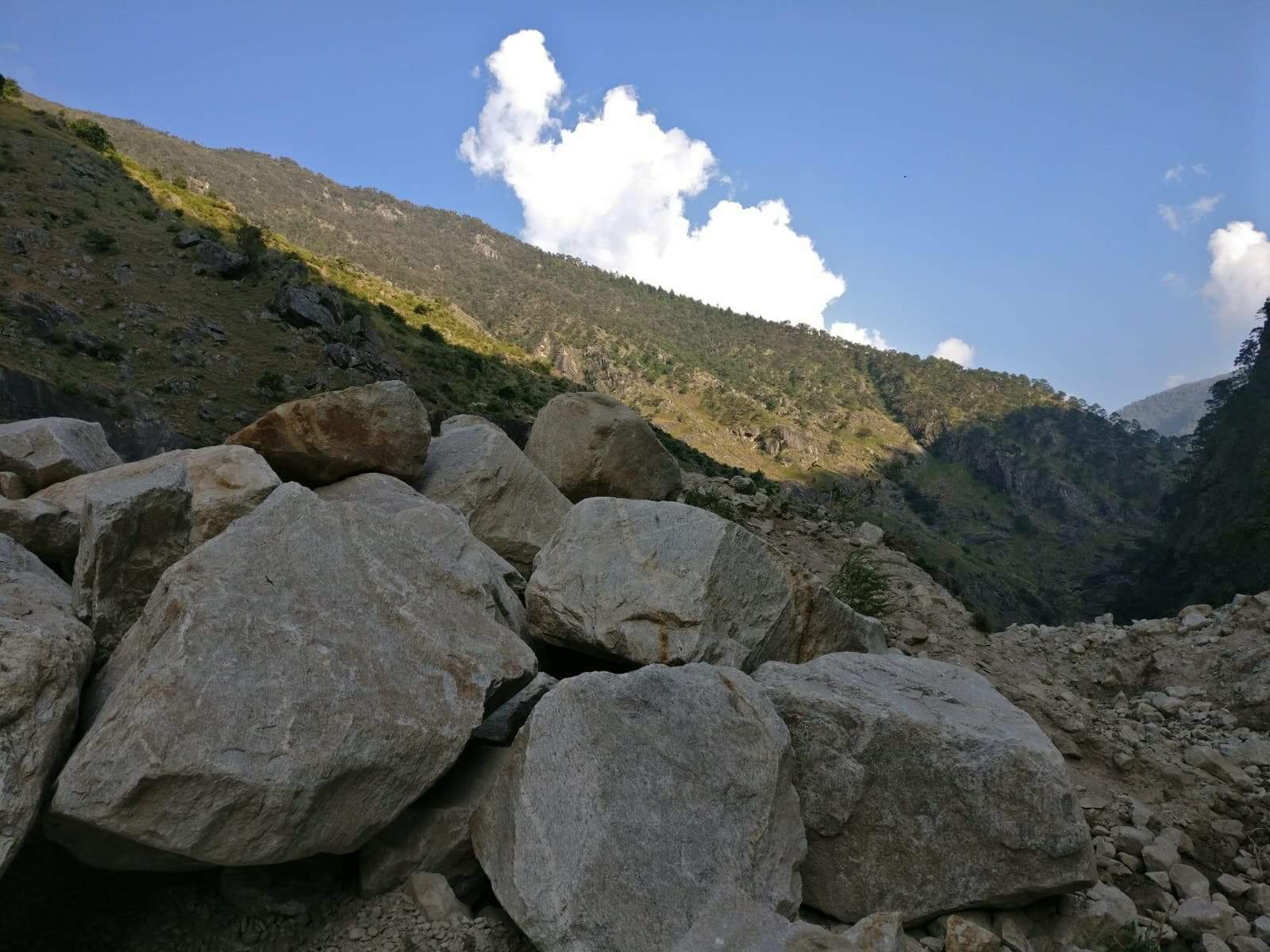 The vehicle on which we were going to travel was scheduled to leave at 6:30, so we hurriedly reached the bus station. To talk about our mode of transport, it was a small jeep with actual capacity of 8 passengers excluding driver. However, due to the toughness of road and lack of transport service on that route, it was facilitated to public as 10 passengers unit. Thus, it was bound to be one hell of a ride. But there were only two transport companies operating there and each had only two of those jeeps to go to Jumla. And as if it wasn't already bad enough, all of those four jeeps would leave every day at 6:30 AM and there won't be any other public vehicle till the next morning. So, we took it as our luck when we were able to book the last three remaining tickets of one of these jeeps. Actually, we got the tickets the previous day as soon as we arrived at Surkhet. Otherwise, we might not even have got them.
The first thought that crossed our minds when we saw the jeep was: Is this really the "one" because it is so small and there are ten full-grown men waiting to get into it! And it turned out to be the "one". Now I laugh when I think about how we used to get in and out of that jeep every time it stopped for refreshment or lunch. Actually, there were in total three doors on it: one to driver's side, one on the other side of driver and the one at the middle of left side. So, the first door would only facilitate the driver. The second door would facilitate the two passengers sitting beside driver. And the last door would facilitate all the remaining eight passengers in coordination with the folding seat in front of the door that would allow passage to passengers in last row. Therefore, while getting in, four passengers sitting on the last row would get in one by one through the door, cross the folded seat and get stacked on the last seat. Then the folded seat would be opened, and the remaining four passengers would get in. After everyone was in, the door would then be closed very carefully with some difficulty because the men stacked inside would exert much pressure on the door. Therefore, it would take at least five minutes for us just to get in or get out. 😀
It was a little consolation that we didn't have to carry all our backpacks inside the jeep because that would have been intolerably difficult to adjust. All of our things were placed tightly on the roof and then covered (that's what we all assumed). As soon as we left for Jumla and the jeep started to drive up hills, there was a little rain fall followed by a shockingly cold weather. We were surprised how quickly we were progressing to higher elevation. I mean a day before, we were at one of the lowest lands and the hottest section of Nepal, and a day later, we were already at upper hilly region. The road mostly was in good condition, but it was nowhere easier to drive due to continuous turnings and elevation. Through the clouds, we could sometimes catch few glimpses of the scenery and they were simply beautiful.
No matter how hard it was to sit in such a tight space, we were adjusting ourselves and were trying to make the best out of our trip. We learned that the other five guys with us were also going to Rara Lake via Jumla, though they weren't going by trekking. While we were  silent most of the time, they were talking endlessly. Sometimes, we would enjoy and even participate in the conversations, and sometimes things would get little irritating. We had our breakfast after two hours of driving at a local restaurant. Then, the road finally took us down hill, which took us another hour to reach to the base and join Karnali Highway.
While we were nearing the base of the hill, we could see a beautiful river running below the road. Someone declared that it was Karnali river and we believed so. But later, our driver informed us that the river was too small to be Karnali. In fact, it was one of the numerous tributaries of Karnali river. Then, at the end of the downhill and before another uphill started, the river that was flowing along us met its destiny, The Karnali River. Then, we all were left in awe. Our driver was right! Yes, the previous river was too small and too ordinary to be Karnali. Because the river Karnali was in whole another level.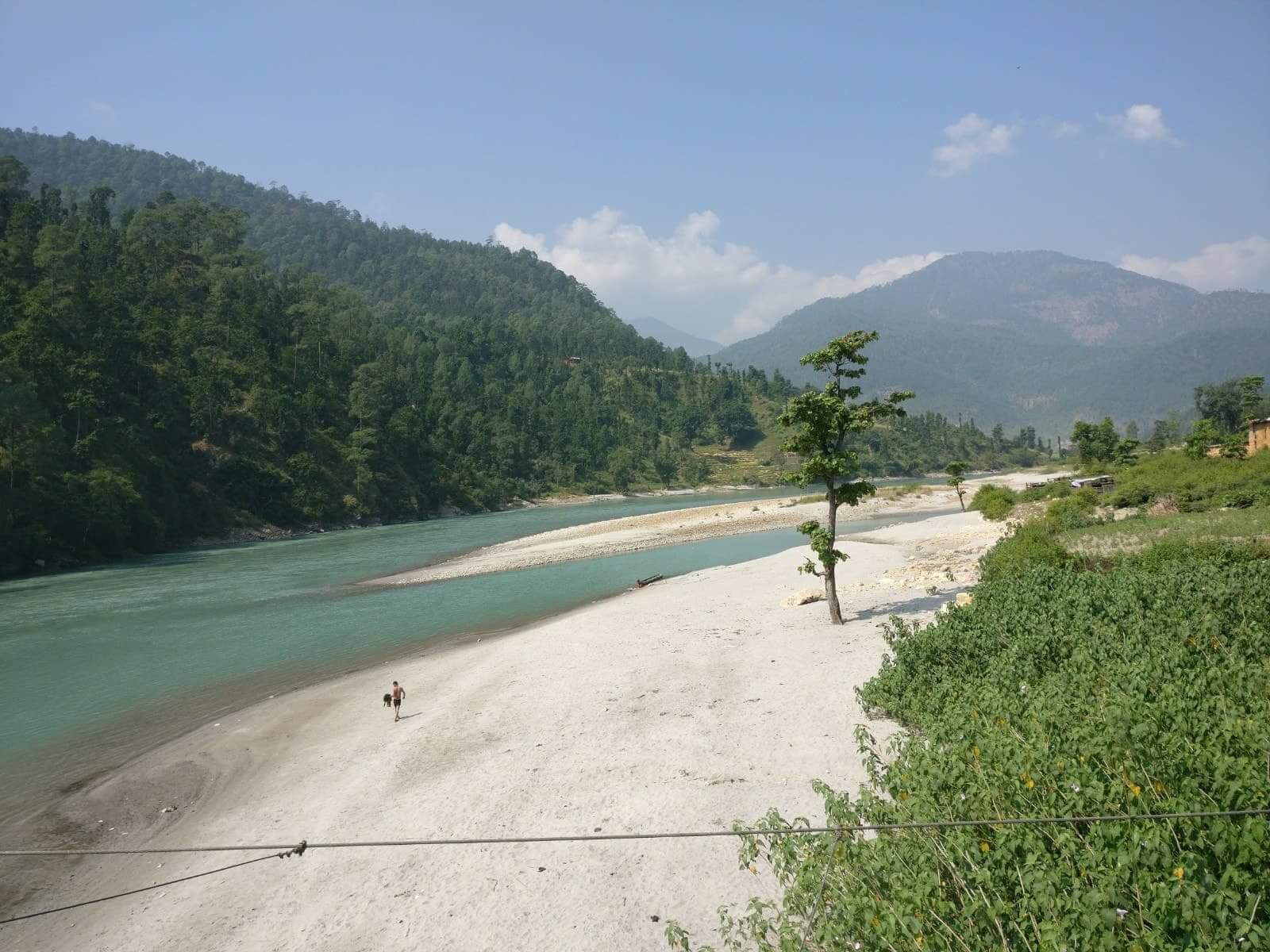 It's not that I hadn't seen other major rivers in Nepal in order to be amazed by its size. I've seen the largest river in Nepal, the Koshi, which appeared like a beautifully calm and peaceful sea. Similar to any other big river, Karnali also has deep blue color, large rocks and white sand beaches. But there's something about Karnali, which leaves deep impression in the heart of its beholder. Perhaps, it is because of Karnali's relations with the extreme geography and hardihood of this region. I personally felt wilderness, unstoppable strength, and untouchable purity when I was looking at it. Then it also made me feel the tragedy, sorrow and rough journey that it carries. It was a true bliss and a soul-stirring beauty to behold with eyes and embrace with heart. And throughout the journey, until we were traveling along this river, I could never take my eyes off it. How could I, when something inside me was resonating so strongly with this natural gift?
To talk about the road, it was mostly in a bad situation. Despite being a highway, it was narrower than the usual house's driveway in some sections (the dangerous ones). Dangerous because about hundred meters just below the road would be the stunning Karnali River. So, it was nowhere as easy as to drive in your driveway. It was common to have recently cleared landslides, waterfalls and fallen rocks just beside the road. And the path was so dusty that you could hardly see anything if you had another vehicle ahead of you. In overall, it was obvious that it was better not to travel that road, specially in rainy season. That is, unless you don't mind having your heart pounding and adrenaline rushing once in a while.
So, we were really surprised to meet a Finnish team in an old van somewhere in the middle of the highway. We had just passed a waterfall running over the road, which had recently brought numerous large rocks almost blocking the road. Just ahead of it, that old van was stuck on the rough ascent. It took all of us to get down and push the van up the road and until then, it was like a traffic jam in that place. We later noticed that same van parked beside the road while we were returning. Perhaps, they finally decided to go on different vehicle seeing the difficulty of road.
Another memorable incident occurred when we reached a place called Kalikot. We were going in our own speed and we could see few children walking near the road. But surprisingly to us, who weren't familiar with the place, those children started to come to the middle of the road as we approached them. Since the driver was quite used to these things, he applied his methods i.e. to scold those children and threaten them to get off the middle of the road. After evidencing this dramatic spectacle, we inquired the driver of what just happened. Then, he told us something about the place that was quite funny and absurd. According to him, the children there supposed that they would appear smart and civilized if they act as they own the road and present their authority over the by-passers. Hearing about it, we all laughed out loud initially. But quickly, we all felt bad and sympathetic about what we just heard. Learning about that level of poverty, illiteracy and ignorance at this modern age was definitely not a pleasing fact. We can't even imagine how hard their lives must be there.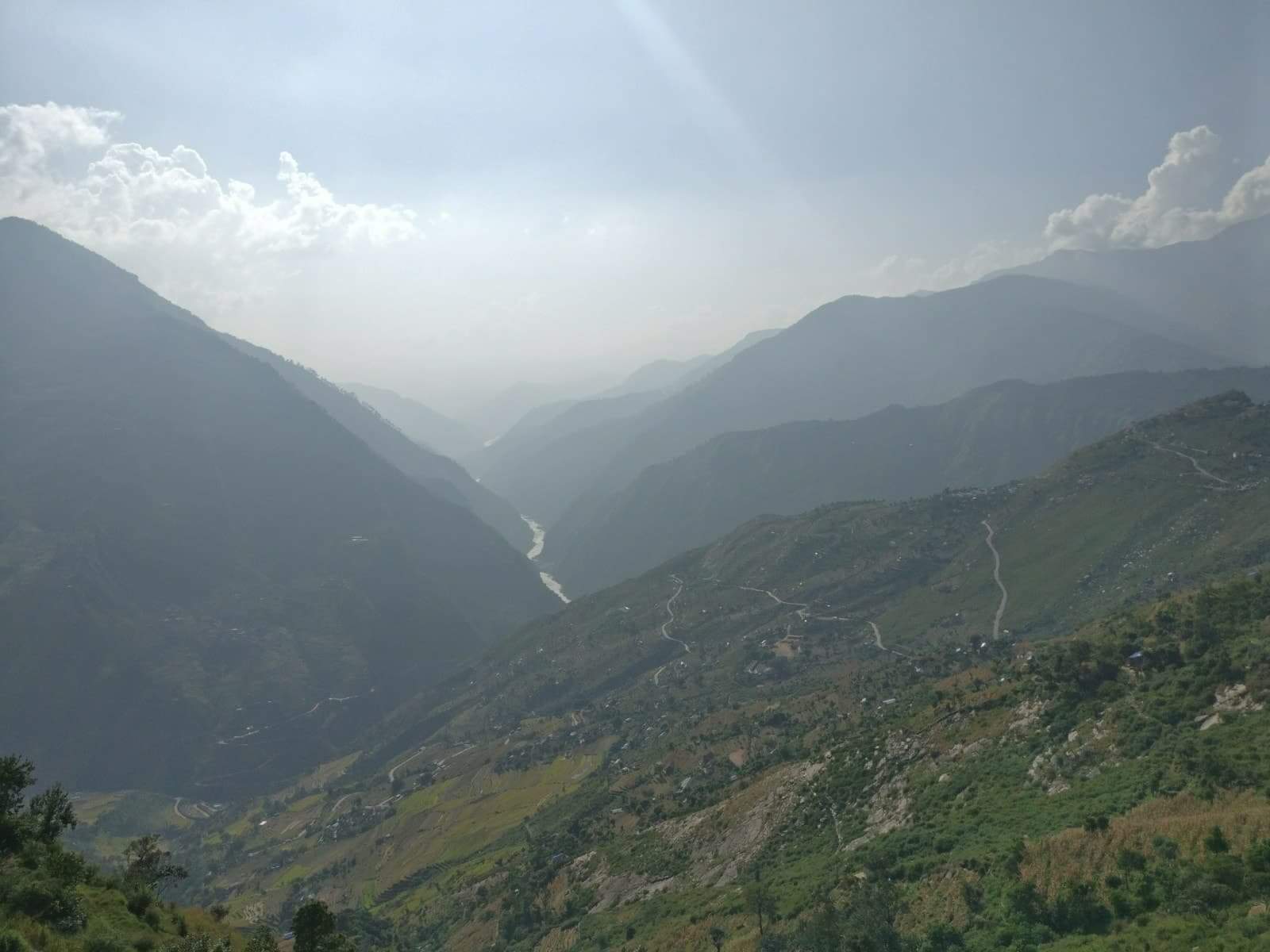 We then had our next lunch at a place called Maanma, the headquarter of Kalikot district. It's located on the top of a hill and provides amazing view all around the region. Unlike the hot temperature of Dailekh district which we passed on our way, this place was very cold with chilling winds. After there, the road was mostly in good condition with few bad sections until we reached a place called Nagma. This part of journey was full of natural beauties, which included the beautiful and artistic hills on both side and an astounding river by the side. The fresh air, villages passed occasionally and the setting sun over the hills, these all made the environment very pleasing.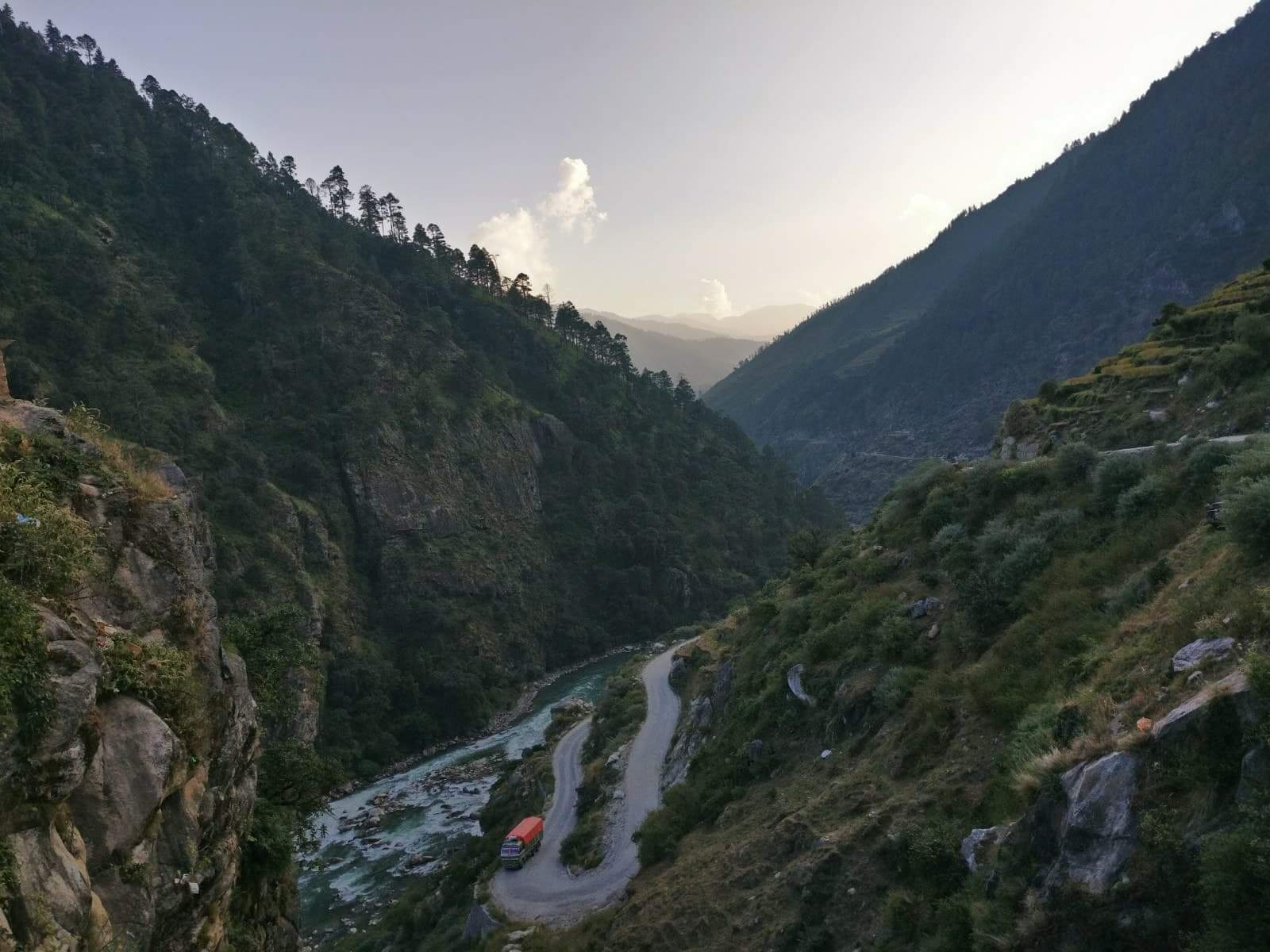 Till we passed Nagma, it was almost dark, so the journey from there to Jumla didn't provided much things to be seen. The road was even better. We noticed comparatively flat terrain. We could see farms all around us and the villages were also seen often than before. Probably for some security reasons, they had like five army checkpoints just in this short interval. It was totally dark when we reached the center of Jumla. It had taken us more than 12 hours.
A friend came to pick us up and took us to the hotel. We had a very nice evening with him and the owners of the hotel. We tried some of the local cuisines there, which were amazing. Coincidentally, the five guys from our journey were also staying in the same hotel. Since we were too tired to stay late night, we simply headed to bed and wrapped up our day.
This is the summary of our third day of trip as I remember now. Thank you for reading! I hope you found something informative here.
To read previous parts of this trip, click below: