What I Learned from My Trek to Rara Lake – Part 2
What I Learned from My Trek to Rara Lake – Part 2
The day I mentioned in part 1 was actually the third day of our trip. It all began on Sunday evening. Three of us gathered together and left from Kathmandu. It might sound unusual, but we had planned very little for this long and adventurous journey of ours. The trip was confirmed only before a day or two and none of us had any detailed idea on how to reach there.
Our first destination was Surkhet, a district in Mid-Western region of Nepal and  around 600KM far from Kathmandu. We chose to travel on bus for this, though we all later realized that air travel would've been better option. Immediately after leaving Kathmandu, we got stuck in traffic for more than 3 hours, so the start itself wasn't good. The bus then didn't stop until midnight. I personally was already starting to feel sick. Then the place where we had to eat wasn't anywhere close to being good. And there were the usual difficulties of traveling by bus in Nepalese highways. Therefore, this whole bus ride became very tiring and exhausting for us. On the positive side, it gave us a close exposure to the landscape of western region of Nepal, which we had never seen before. And we are grateful for all of these, despite the troubles that we had to endure.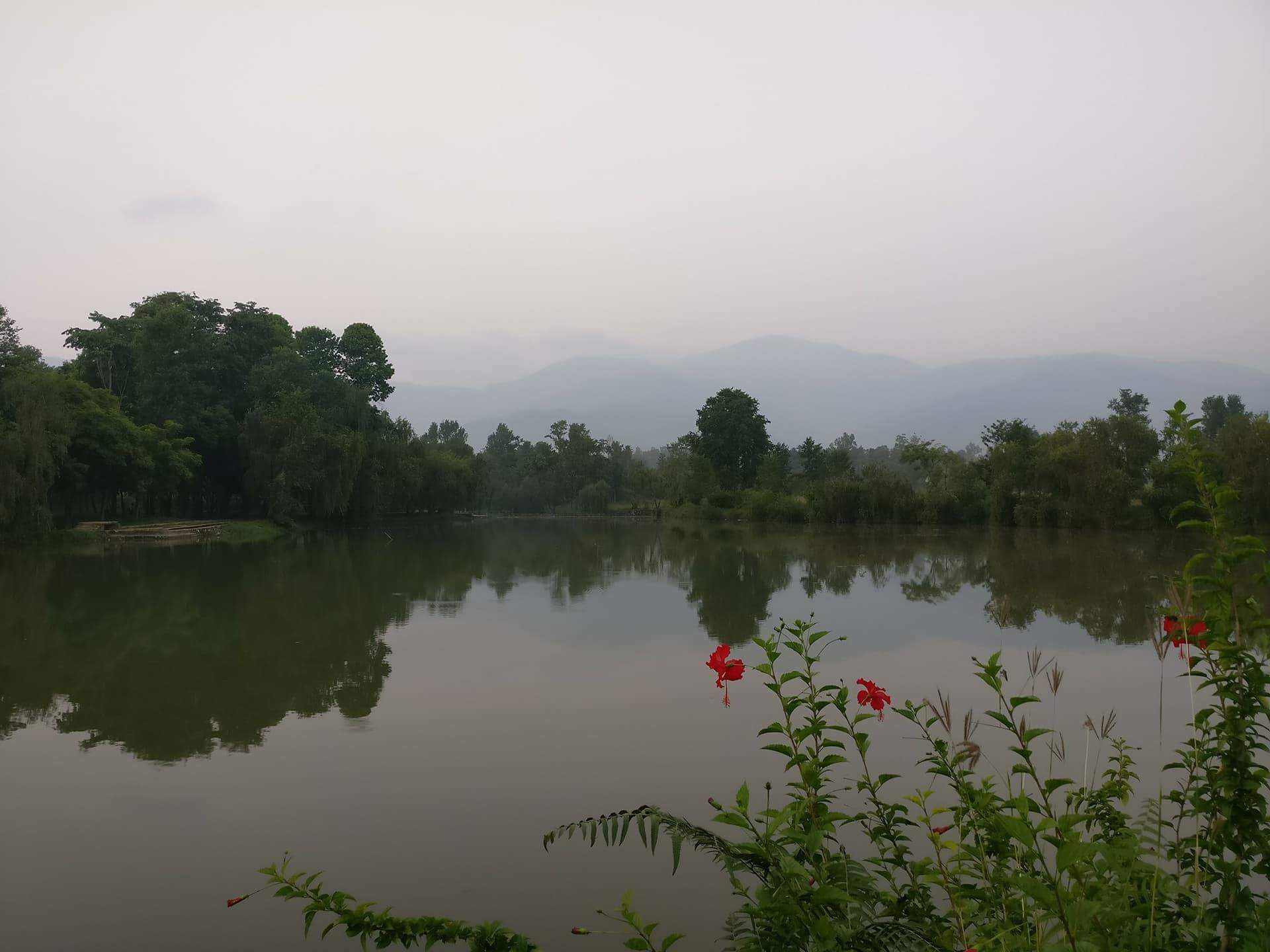 I'd like to add a short story of an event that occurred during this bus trip. So, the bus we were in was mainly consisting of a group of, I guess 23, who were going to attend some event in Bardia National Park. Based on the songs and prayers they played the whole time in bus, it was obvious that they belonged to some church and were going on similar event. But it turned out that the bus actually wasn't going to Bardia. Maybe some greedy counter personnel or commissioner was involved. So, once we arrived to Kohalpur, from where the bus had to choose between Bardia or Surkhet, the truth finally dawned upon everyone. The day was already scorching hot and the bus's air cooling was off most of the time, courtesy of mean bus staffs. Then, the environment heated even further as that group's leaders and bus staffs began arguing.
The group was insisting that the bus had to drop them to Bardia and then return and finally go to Surkhet. That'd easily add 2-3 hours to the trip. But the bus staffs were arguing that it wasn't their fault that the group ended up in their bus and also they cannot go to a place other than their assigned route even if they wanted. It seemed logical that the group should have better checked their destination while buying the tickets. And this discussion continued for about an hour and all the rest of us passengers were under dilemma whether we'll be going to Bardia or Surkhet. And for us, who had to go so far, we were like WTH! Seriously, to be in such condition, under that hot environment was absolute torture. Finally, they settled things and the bus left for Surkhet. Yes, things like that do happen while you are traveling.
The road then began to take accent and it was also after noon, so the temperature started to cool down. However, the road was mostly whirling around the hills, so the speed of bus also dropped. Just before sunset, we finally arrived at Surkhet. My initial impression of Surkhet was pretty good as I could see the green crops and hills all around. But the main city center was full of dust, noises and pollution, like a synonym to Kathmandu. You can get a picture of Surkhet bazaar if you've been to Kathmandu. Despite that, there also was a beautiful place called Bulbule Lake. The lake itself wasn't that attractive due to contamination, but the surrounding was well managed as a park. We just happened to see a mesmerizing sunset while there. By then we already had our tickets to Jumla and hotel booked, so that was our overall experience in Surkhet.
Well, this was how our first day of journey went. Apart from above mentioned events, we also had some interesting conversations with our hotel owners. We talked about politics and importance of federal system with the owner, the father. And we learned a lot about Rara and various other places around there from his son. As we had to leave early in the morning, we purchased most of the necessary stocks for our trek, arranged them in our backpacks and went early to bed.
Still reading about our journey? See you in the next part then! Thanks for reading!